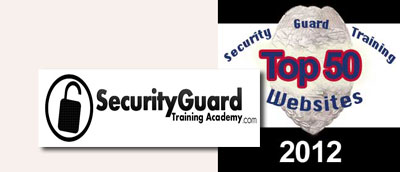 Category Winner: Best Security Guard Training Job Search Site (1st place)
The Security Guard Training Academy made it to the Top 50 Security Guard Training sites because of its wealth of information. Unfortunately, you have to scroll way down to find the categories and articles on the lefthand Nav Bar. I feel that a lot of web surfers will miss the quality of their articles and security guard information.
For example, they have a good resume sample for anyone seeking a job in the industry.
If you're looking for a job, they do more than simply post what's available in a given locale. This company shows you how to use Google and Craigslist to search for jobs. Quick, easy advice.
Before you get to the "meat of the website," you'll find links to security-guard requirements by state. Scroll past this list, and take a look at their security guard tips, industry articles and blog posts.
http://www.securityguardtrainingacademy.com
[headline_tahoma_large_centered color="#000000″]Check out the other Top 50 Security Guard Training Sites[/headline_tahoma_large_centered]