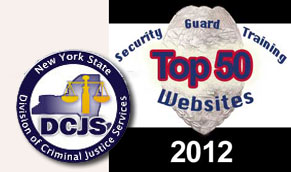 The State of New York Criminal Justice Services has a great section on Security Guard Training. You can click on information about fingerprint identification services, DNA testing, crime reporting, sexual offense kits, and more.
You'll find slideshows, videos, documents, and articles explaining many facets of law enforcement. The post news, meeting, employement opportunities, and directories.
[features_box_light_green width="75%" + border="2px"]Note: Don't miss the nav bar on the right-hand side of the page. When I explored this site, I relied on the links along the left-hand side of the page. What I almost missed was that some pages have a whole new set of resource links on the right side, too.[/features_box_light_green]
Security officers who want to make their job an honorable profession, and more than just "mall babysitting," need to incorporate skills used by law enforcement officials. This makes sense, right?
This New York Criminal Justice Services website is a great place to start. Click on the links and take lots of notes.
We are happy to include them on the Top 50 Security Guard Training Websites of 2012.
http://www.criminaljustice.ny.gov/ops/sgtraining/
[headline_tahoma_large_centered color="#000000″]Check out the other Top 50 Security Guard Training Sites[/headline_tahoma_large_centered]