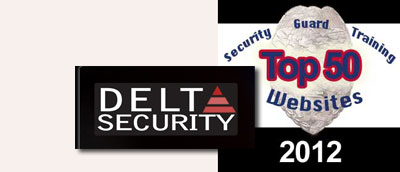 Delta Security is one of the Top 50 Security Guard Training websites for the year. They offer training and licensing in the Greater Toronto, Ontario area (Canada).
A little diving into their website, and you'll discover, what I consider to be, their biggest benefit — THEY OFFER 100%, GUARANTEED JOB PLACEMENT.
There are several security guard training facilities that cater to Ontario, Canada … but these folks will get you employed. That's a big plus in my book. Wouldn't you agree?
And yes, they follow Ministry Guidelines. (We'd expect no less 🙂
Delta Security offers online training. That's why we chose them for this list … but they also offer personal training for your company or group. And I'm sure, with the right incentive, they'd offer private instruction, too.
They also provide career guidance, which could be important for you in selecting the right niche for this field.
While you can contact them via an online form (and offline info, too), they don't seem to have a presence on either Twitter or Facebook.
We hope that once they see that they have been selected for the Top 50 Security Guard Training websites of 2012, they'll provide us with a little background information, and maybe even more social links for you to follow and connect with them.
Maybe they'd even point us to a posted video (Youtube.com) that we could share with you. We'll hope.
Again, congratulations to Delta Security of Toronto, Canada.
[headline_tahoma_large_centered color="#000000″]Check out the other Top 50 Security Guard Training Sites[/headline_tahoma_large_centered]