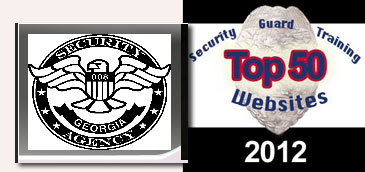 The Georgia Security Agency is a good representation of the training you'll find in the state of Georgia. The should definitely win an award for ease of navigation. There site is clear, and each category is easy to find.
Not only that, you won't find their site cluttered with a lot of ads. In fact, the absence of blatant advertising was very refreshing, when reviewing this site.
The private investigative services are a little off-topic for this Top 50 Security Guard Training List. For example, I'm not sure that as a professional security guard you need courses in catching cheating spouses in the act.
Still, some of the niche classes might be of great help to a security guard wishing to jump to another career. For example, the switch from security officer to store detective might warrant a pay increase.

There courses are not in the budget range of some of the previous security sites, but rather than offering one afternoon seminar, The Georgia Security Agency offers three-day seminars and certification. A definite plus. (Sometimes, you have to pay for quality.)
Congratulations to Georgia Security Agency (http://www.georgiasecurityagency.com/5.html) for offering a wide variety of courses in a variety of locations. A definite Top 50!
[headline_tahoma_large_centered color="#000000″]Check out the other Top 50 Security Guard Training Sites[/headline_tahoma_large_centered]