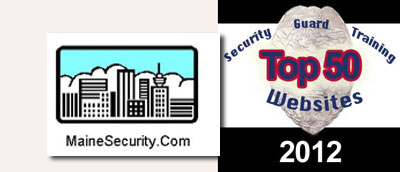 Category Winner: Best Security Guard Training Site for  HOTELS (1st place)
To give you an idea why I like this site, here's a link directly to resources on hotel security. You'll find tips, companies, and links to other pages.
MaineSecurity.com did what a lot of other websites need to do … a little research. They chose a sub-niche within their genre, and looked for relevant links. Then they put these related links on one page as an easy resource. Great.
[content_box_light_green width="75%"]Note: Scroll down past the resources, and you'll find a big list of current articles … all on hotels and security.[/content_box_light_green]
Be sure not to miss their main menu, all the way to the left. It will take you to other pages, also filled with security guard training information. You'll find all facets of security … personal safety, secure vehicles, security guards, and more.  Take a look.
Probably my favorite resource page that MainSecurity.com provides is the list of Security Blogs. I really didn't know that these existed. Scroll for security blogs, national security information, anti-terrorism blogs, and the list goes on.
Good research, guys!
Can you see why this website made it to the Top 50 Security Guard Training Site of 2012? Nice!
http://www.mainesecurity.com/Hotel_Security.htm
[headline_tahoma_large_centered color="#000000″]Check out the other Top 50 Security Guard Training Sites[/headline_tahoma_large_centered]