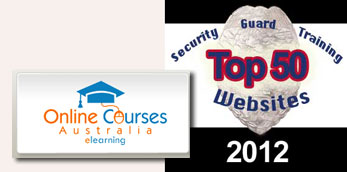 Actually, we were a little surprised that a non-security site was nominated more than once for security guard training. Maybe martial artists down under are a loyal group.
To me, Online Courses Australia looks like a very complete site for careers, but doesn't offer much info. for the security guard field.
When reviewing this site, I saw Certification lll and Certification lV offered. The prices were bold, although in line with normal college tuition, I guess.
The need for diverse, geographic representation on the Top 50 Security Guard Training Sites was one reason this site was listed. Offering over 370 hours in training was another. Take a look at their demo.
http://www.onlinecoursesaustralia.edu.au/courses/security-courses.aspx
[headline_tahoma_large_centered color="#000000″]Check out the other Top 50 Security Guard Training Sites[/headline_tahoma_large_centered]