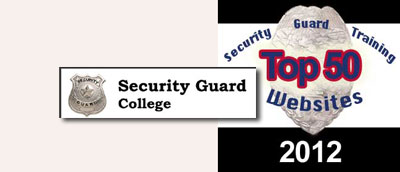 This Security Guard College offers 20 hour online training for the state of Illinois. They are also State-Certified to offer the complete 40-hour training program. (Their twenty-hour training program is for UNARMED CERTIFICATION … which we consider manadatory training for anyone aspiring to work in the security guard profession.)

We are proud to add them to our list: They represent another state for certification, they have a very-easy-to-navigate website, and they are very clear about their different programs. You are just one click away from finding out about their weapons training, their unarmed training, and additional pistol training.
Of note, there prices are very reasonable. It's obvious that this company cares about the profession.
Take a look at their 20-hour unarmed training curriculum. (Click on the link and scroll down.) The complete overview of what's covered should be copied and pasted into your professional notebook. This is an excellent list of skills you need to acquire to be at the top of your game.
Again, kudos to this compact, yet important website. It's a nice addition to the Top 50 Security Guard Training list of 2012.
Take a look at their web site: http://www.securityguardcollege.com/
[headline_tahoma_large_centered color="#000000″]Check out the other Top 50 Security Guard Training Sites[/headline_tahoma_large_centered]