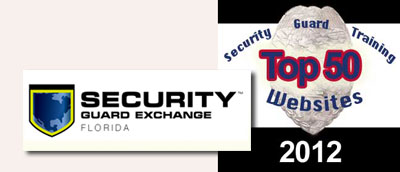 Congratulations to this Florida website and company for their inclusion on this year's list.
While I approve of the site, there is one little snafu … it's a "busy looking" site.
Still, if you stick to the Nav Bar on the Florida Security Guard Exchange and you should be fine. There were too many ads "strategically" placed on the site for my taste, but if you start your clicking with the nav bar, you'll have a better chance of staying on their website.
While their security blog reads like an RSS feed, they do have some good criteria for article selection. Their posts were very interesting, definitely worth a look.
I appreciate that their free job search had a small menu for category selection within the Security Officer field. For example, you can choose between unarmed and armed positions. This is a big benefit.
If you are looking for licensing by state, click on their Site Map.
Here's where you'll find them on Facebook.
And be sure to follow The Security Guard Exchange  on Twitter, too.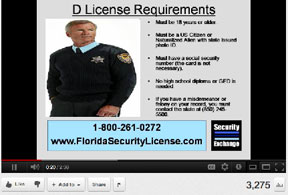 <= Check out their video on Youtube.
http://www.security-license.com/
[headline_tahoma_large_centered color="#000000″]Check out the other Top 50 Security Guard Training Sites[/headline_tahoma_large_centered]