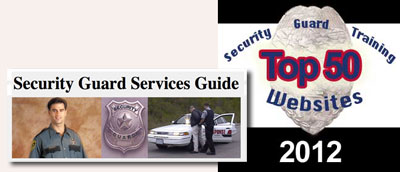 Category Winner: Best Security Guard Training Site for  EMPLOYERS (1st place)
The Security Guard Services Guide made it to the Top 50 Security Guard Training sites because of their clear articles divided into two categories: Those who want to be employed as a security officer and those who wish to do the employing. Nice and neat — employees and employers.
You will only find useful articles on this site and only one sidebar of Security Guard Ads.
This site is easy to navigate. What you see is what you get. You'll find reports on guard services, training, unarmed versus armed, stationary versus patrolling, and more.
[features_box_blue width="75%" + border="2px"]Note: The Resources Section is definitely worth a quick look. (A few of the links could use some updating, but it's still a useful section.)[/features_box_blue]
We like that this site makes a case for not carrying weapons, unless the particular security job makes it a requirement. What's the alternative? Martial arts training, of course  🙂
They also do a good job of explaining interactive systems and the ability to monitor many areas from one location.
Congratulations to  http://www.securityguardservicesguide.com/
[headline_tahoma_large_centered color="#000000″]Check out the other Top 50 Security Guard Training Sites[/headline_tahoma_large_centered]