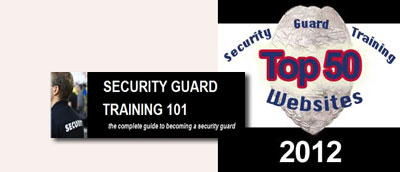 Our original search for the Top Security Guard Training Sites for 2012 emphasized the online information. Since so few sites had "any" security officer articles, we had to broaden our search.
Fortunately, before we expanded our criteria, we found  http://www.securityguardtraining101.com/ .
This site is composed of a nice set of articles which are great for surveying the industry. You can find information on the kind (amount) of salary you can expect as a professional security guard.
They explain the lack of academic requirements for the position, while still providing the relevant training advice … like the difference between security guard schools and separate classes. Useful info.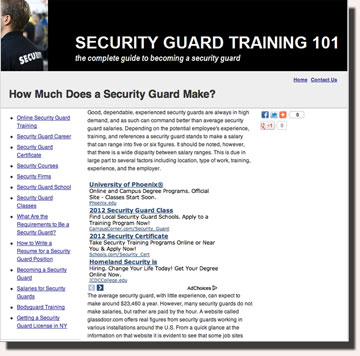 They even have tips for writing a resumé for landing that security guard job.
If the owners of the site see this award, I hope they provide contact information, so that you can follow them on Twitter and Facebook.
As of this writing, they only have the ability to share a link to their original website using social media. I think security guard enthusiasts might want to follow them, don't you?
Take a look at this article site … one of the top sites for 2012.
[headline_tahoma_large_centered color="#000000″]Check out the other Top 50 Security Guard Training Sites[/headline_tahoma_large_centered]