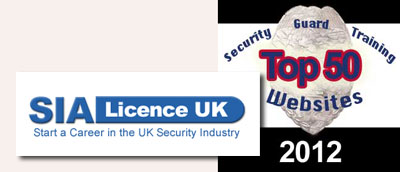 In the UK, you now need an SIA license to be a Security Guard; this has been legislated since 2001, and a requisite for all guards since 2004.
In the UK, whether you are a Door Supervisor or a Close Protection Officer, you need to be SIA certified.
Enter SIA Licence UK.
Scroll down the left side, and you'll find all sorts of explanatory articles. Many of them are extremely helpful. And across the top is a colorful Nav Bar, divided by the categories of jobs requiring SIA licensure. Very clear, easy to follow.
If you click on Security Guard, for example, you'll find good, concise information, and if you scroll down, you'll find links to more security-guard articles. Nice.
You can also select what type of training you seek, and cross reference courses by location (upper left).
Also of note, any advertisements on the site are to their own programs and to more information within the site. A definite plus.

If you're looking for employment in the security industry, click on their RSS job feed.
Congratulations to SIA Licence UK for such an easy-to-navigate, informative site. This is why they are on the Top 50 Security Guard Training Websites for 2012.
Be sure to look for SIA Licence UK on Facebook and follow them on Twitter. And be sure to tweet Peter Thomas.
Be sure to visit this site: http://www.sialicenceuk.com/
[headline_tahoma_large_centered color="#000000″]Check out the other Top 50 Security Guard Training Sites[/headline_tahoma_large_centered]