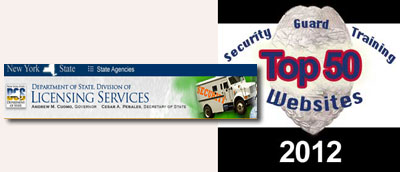 Are you wondering why New York's Licensing Services would be included on the Top 50 Security Guard Training Websites of 2012?
This is the more bureaucratic side of becoming a top security officer. This page (and site) will guide you through all the official forms needed to get certified for the state of New York.
They conveniently provide links to all of the individual forms. This is a big plus to have all necessary documents in one place.
In addition, NY's state licensing services has one of the most complete FAQ sections of all sites reviewed.
There is also a FREE ebook (pdf) on the licensing law. Definitely download this.
Even if you don't live in New York, you might want to take a look at this site. It will put you on the right track of what you might need on your own state or country. It's a great starting point: http://www.dos.ny.gov/licensing/securityguard/sguard.html
[headline_tahoma_large_centered color="#000000″]Check out the other Top 50 Security Guard Training Sites[/headline_tahoma_large_centered]