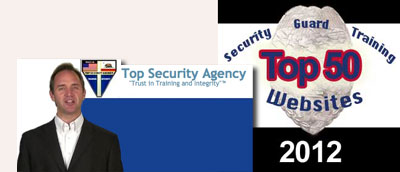 [headline_georgia_small_left color="#000000″]The Top Security Agency[/headline_georgia_small_left]
(http://www.topsecurityagency.com/ ) made it onto the Top 50 Security Guard Training 2012 list because of the company's commitment to higher-quality training.
If you want to settle for a minimum-wage job, then this company is NOT for you. They want more for their students. (We highly approve of sites that emphasize professionalism.)
They focus on a professional work ethic in their training … and this high quality shows up in their products (although the product page was being updated at the time of this review).
A definite bonus: Use their online form for an actual employment application … right then and there!
Explore the FAQ section to find out why their site is different from other online courses that offer guardcard certification. It's worth a quick look.
Of note: this is the first website on the Top 50 list to offer a section of the website on martial-arts training….
The Top Security Agency requires a minimum number of classes in the Korean art of Hapkido. After the initial instruction, the future security guard is encouraged to continue to at least Yellow Belt in the system.
More training would be better.

Explore their courses, get connected to requisite sites for certification, and more.
The site is easy to navigate, and they have a form for contact. Also, once a member, you can log in and view your own stats.
[headline_tahoma_large_centered color="#000000″]Check out the other Top 50 Security Guard Training Sites[/headline_tahoma_large_centered]