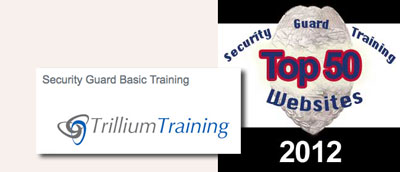 TrilliumTraining.com starts our list for the Top Security Guard Training Sites 2012….
[features_box_blue width="75%" + border="2px"]Note: Remember, over 43,000 subscribers were asked for nominations. From over 400 qualifying entries, the Top 50 Security Guard Training websites were chosen.[/features_box_blue]
If you are looking to meet the Ministry Guidelines for being a security guard in Ontario, Canada, then start your search at Trillium Training.
They pride themselves on teaching you to be a professional at creating a safe environment wherever you are employed. Trillium accomplishes this by offering a complete, online curriculum.
They definitely offer online courses in every aspect of being a security guard in Ontario. Kudos.

Joel Lawton is the president of Trillium. What really jazzed me about his message was that he understands and employs both synchronous and asynchronous teaching for the students' learning. (I have a Master's degree that emphasized teaching methodologies, so I appreciate someone who expresses the need for both.)
The back-and-forth communications, downloading of materials, workbooks, and such will satisfy the "work at your own pace," asynchronous style of learning.
And to keep the standards of their instruction to a professional level, they also use video-conferencing for real-time, synchronous teaching and learning. Nice.
These guys have been around for going on 15 years. We are happy to have Trillium Training on our list:
Follow Joel Lawton and Trillium on Twitter
[headline_tahoma_large_centered color="#000000″]Check out the other Top 50 Security Guard Training Sites[/headline_tahoma_large_centered]